Products Concepts
Strong Point of Unical Products
Heating expenses can be reduced because our most products can be used at room temperature.
Amount of replenishment can be reduced due to less evaporation.
The control of concentration and conditions of bath is simple, so it is easy to use at work place.
Investment in cleaning equipments can be reduced at minimum because cleaning effects of our products are excellent so there is less need to be assisted by the equipments.
Lengthening of Liquid Life (Almost eternal life)
It has been used for 10 years, which is the longest record in Japan, without making a new bath.
There is no line stopping which is occurred by making a new bath totally, so capacity operating rate achieves 100%.
The bath can be used for a long time by only replenishment once it is made.
Amount and cost of waste liquid can be reduced largely because waste liquid is produced little.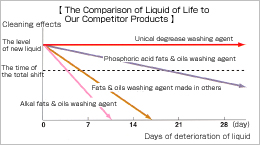 Reduction in waste water load
Waste water load can be reduced largely because consumption of liquid is minimized due to long liquid life.
Our products are composed of really low waste-water load substances, so load of waste liquid treatment is reduced largely.
Simplicity of bath control
Stable quality of cleaning can be kept because there is less deterioration of our products or not at all.
Almost all detached coatings and removed oil are floated on surface or sunk at the bottom, so it is easy to collect this sludge.
Reduction in running cost
Heating expenses and waste liquid treatment cost are reduced largely; as a result total running costs are also reduced.
The loss occurred by line stopping can be reduced because there is no need to replace a used bath with a new one.
Liquid consumption can be controlled by minimizing the consumption of liquid.